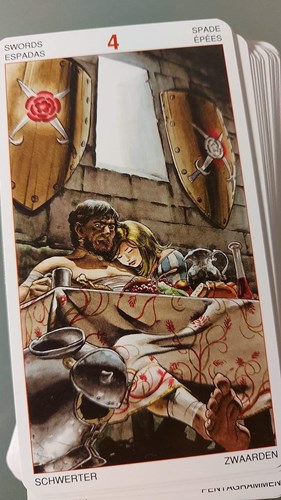 Calling a Truce and the Four of Swords
Added at 12:28 on 30 January 2022
I was looking through this deck at the Four of Swords, and as I used my Golden Dawn deck, the element of this card's need for a truce came to mind.
In a lot of the Rider Waite Smith decks and clones, this card shows a man appearing dead, sleeping on top of a tomb. While that is filled with millions of tiny bits of symbolism, within this card I have taken today, that differs.
The withdrawal from others and society to heal, sleep on things, and get some energy back is not as predominant as the white flag being waved by the enemy. This card may show a man and a woman relaxing, yet above both are their different shields with different crests, so two sides, two opponents, and a truce called.
Shoes are discarded, bandages are applied, and a feast has been eaten as they sit to break bread in a time-out from fighting.
If you're fighting with another, yourself, a group of people, an organisation, etc., while the issues may be pressing, and each side is not backing down, this card can show us that it is time to be nice, offer a warm hand forward, kind suggestions, and even agree to disagree. This truce may be temporary with this card, yet in those moments of surrender where blame is left outside the door, we can move even the most awful of situations forward.
More: Four of Swords
---
- Email Guidance for your problems big & small
- Join us in our Facebook group, Understanding Tarot
- Understanding Tarot by Pam Richards
---